Power Range:
1000 - 10000 VA
1000-10000 VA
SENTINEL RT is the high density version of the Premium Pro range of double-conversion ON LINE UPS.
SENTINEL RT is designed to power critical loads such as servers, storage systems, telephone equipment, medical systems and industrial applications.
The UPS is ideal for Blade servers with an input power factor close to Unity (1). The UPS has can be used as tower UPS or within a rackmount cabinet, and takes up only 2U in height.
SENTINEL RT has a modern design, choice of functional formats, and represents the state-of-the-art technology from the Riello UPS research & development team. The UPS can achieve an ON LINE operating efficiency of 92%. For critical business continuity applications requiring long runtimes, SENTINEL RT can be installed with battery extension packs.
The UPS also incorporates the Riello UPS 'power-off' function found in other ECO Line UPS. SENTINEL RT is designed to save energy when no loads are connected.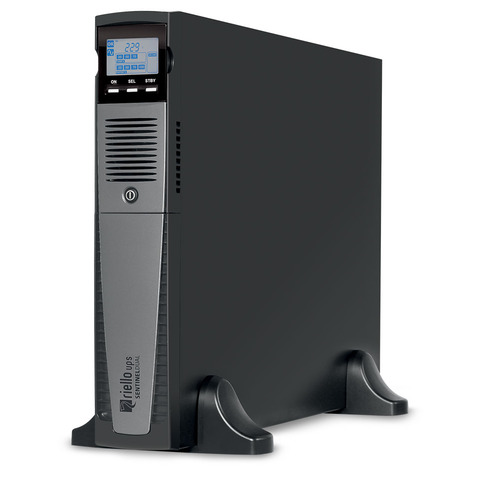 Brochures and data sheets
Technical specifications of the model
Simplified installation
Tower or Rackmount UPS: SENTINEL RT can be installed as tower or 19" rack mount UPS, with a front mimic panel that can be turned through 90º to suit the installation.
Noise Free Operation (<40 dBA): the UPS can be installed in any environment thanks to its PWM digitally-controlled high frequency inverter;
High Temperature Operation: UPS components are sized for high temperature operation up to 104 °F (40 °C) and are not therefore stressed during normal operational environments.
Reduced management costs
SENTINEL RT can be programmed remotely via software or set manually from the front mimic panel to operate in a range of energy saving operating modes:
ON LINE: maximum power protection and output voltage waveform quality (efficiency up to 92%);
ECO Mode: to increase efficiency (up to to 98%), allows for the selection of LINE INTERACTIVE technology (VI) to power low priority loads from the mains supply;
SMART ACTIVE: the UPS automatically decides upon the operating mode (VI or VFI) based on the quality of the mains power supply;
STANDBY OFF: the operating mode in which the UPS functions as an emergency device.
Advanced communications
SENTINEL RT offers maximum flexibility for integrations with any communication system.
Multiplatform communication for all operating systems and network environments, Powershield3 supervision and shut-down software for Windows, Mac OS X operating systems and other Unix operating systems;
RS232 serial port and opto-isolated contacts;
USB port;
Slot for TCP/IP, SNMP communication card.
High quality output voltage
Even with non-linear loads (IT loads with a crest factor of up to 3:1);
High short circuit current on bypass;
High overload capacity: 150% by inverter (even with mains failure);
Filtered, stabilised and reliable voltage (TRUE-ON LINE double conversion technology), with filters for the suppression of atmospheric disturbances;
Power factor correction: UPS input power factor close to 1 and sinusoidal current uptake.
High levels of battery reliability
Automatic and manual battery tests;
Batteries are 'hot-swappable' and user replaceable.
Other features
Output voltage can be selected using display;
Auto-restart when mains power returns (programmed via software);
Standby on Bypass: when the machine is switched off, it automatically goes into bypass operation with batteries charging;
Power-Off with zero load connected to save energy;
Low battery warning;
Power-on delay;
Full microprocessor control;
Automatic bypass without interruption;
Status, measurements and alarms available on the front panel mimic panel and LCD;
UPS firmware upgrade via PC;
Input protection including a user reset thermal switch (up to 1500VA);
Back-feed protection;
Manual option to switch to bypass.
2-YEAR WARRANTY