Guard Tower is the ideal solution for protecting mission-critical systems such as safety devices, telecommunications equipment and IT systems to ensure maximum power reliability.
Guard Tower is designed and built using state-of-the-art technology and components to provide maximum protection to the powered loads with no impact on downstream systems and optimised energy savings. The series includes 6-10 kVA/kW single/single-phase output models with ON LINE double conversion technology (VFI): the load is powered continuously by the inverter which supplies a sinusoidal voltage, filtered and stabilised in terms of form and frequency.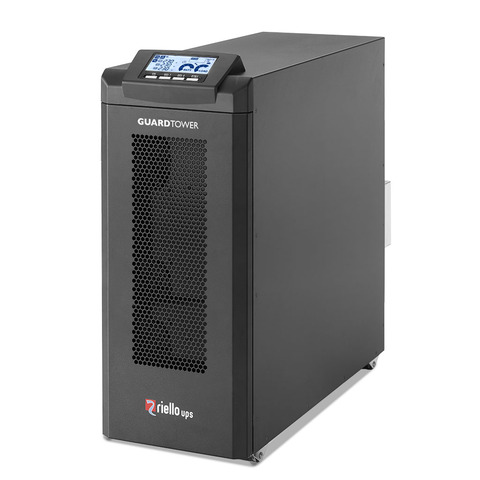 Technical specifications of the model
Reliability
Total microprocessor and DSP control.
Interruption-free static and manual bypass;
Specifications guaranteed up to 104 °F/40 °C (the components are designed to work at high temperatures and thus are subject to less stress at normal temperatures).
High quality output voltage
Even with non-linear loads (IT loads with a crest factor of up to 2.6:1);
High short circuit current on bypass;
High overload capacity: 150% by inverter (even with mains failure);
Filtered, stabilised and reliable voltage (double conversion ON LINE technology with filters for the suppression of atmospheric disturbances;
Power factor correction: UPS input power factor close to 1 and sinusoidal current uptake.
Simplified installation
Output terminal board;
Optional PDU;
Simplified positioning (built-in castors).
Advanced communications
GUARD TOWER offers maximum flexibility for integrations with any communication system.
Multiplatform communication for all operating systems and network environments, Powershield3 supervision and shut-down software for Windows, Mac OS X operating systems and other Unix operating systems;
RS232 serial port and opto-isolated contacts;
USB port;
Slot for TCP/IP, SNMP communication card;
Surge voltage let-through (max)—< 10V normal mode (L-N), < 0.5V common mode (N-G) when subjected to 6kV ANSI/IEEE C62.41 Cat. A;
Static switch—automatically transfers output from inverter to the isolated bypass source in the event of an overload or fault;
Surge voltage withstands capability—ANSI/IEEE C62.41 Category A & B, 6kV/200 & 500A, 100kHz ringwave.